Ambience at the Castleevents
All our party equipment is assembled and set up for the perfect moment and when the lights are down we immediately dissemble everything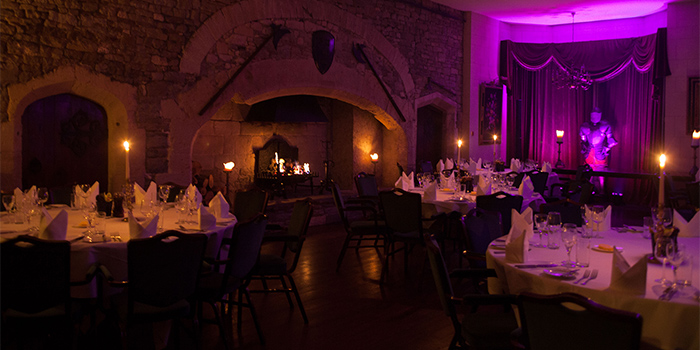 Eyes wide shot party by Castleevents
Equipment designed to suit the requirements of Castleevent parties is transported to every castle party and carefully installed by our logistics partner. The comfortable event furniture was specially designed for Castleevents and created using the finest materials. White leather sofas studded with Swarovski crystals and lounge seats trimmed in red velvet create a feudal, stylish ambiance in the rooms and conjure up a sense of the renaissance within the old walls. The atmosphere is perfected by the addition of high-quality sound and lighting.
The equipment of Castleevents
In a warm, light-flooded room with elaborately prepared baroque elements lies a sweet, sensual fragrance in the air. The old walls form a unique contrast to the heavy velvet curtains and white leather sofas with modern Swarovski elements. The unique baroque castle is thoughtfully equipped down to the smallest detail and takes the guest, not least by its tonal subtleties, into a mythical world.
Luxury & exclusivity
After a tiring and grueling week of work, we want to give our guests an oasis of relaxation and spare no effort. The localities are always chosen with the utmost conscientiousness and move in the absolute luxury area. Many hotels and castle owners are now trying to work with us and see this cooperation as a big compliment to their establishment.
Love for details
At the beginning of each Castle Event our professional logistics team will travel to assemble the high quality equipment. Behind every source of light and music, behind every exclusively produced piece of furniture, there is a lot of work and time. Even the furniture is created exclusively for the Eyes Wide Shut parties and upholstered in the finest materials. The flickering candlelight is complemented by the soft glow of modern, dimmable light sources and creates a mythical ambience in the otherwise modern lounge area.
The different areas at the event
The interior design changes from the classic style of the ceremony and the dinner to the modern, as guests stroll through the lounge, disco and bar area. Each individual location enchants with its own theme, own style and individual music. There is something for every taste and every single guest can relax in his chosen area and feel comfortable.
The well being of the guests as a top priority
For us at Castle Events, the absolute satisfaction of each guest is of the highest priority. That's why we always try to provide the finest service and venues. We spare no effort and expense, because all efforts are worth it, in order to be able to prepare our guests an unforgettable evening. We care about your time and, above all, your well-being, which is why we always strive to meet all your wishes!